ClickMagick is a tracking app aimed at tracking clicks in real time. When you want to post a link in an ad, on social media, or in a guest post or other form of inbound marketing, you can run that link through ClickMagick first. When you do, it creates a ClickMagick tracking link for you. This link, combined with the ClickMagick tracking code you install on your website, allows you to track traffic on an individual basis.
As you might expect, this system basically uses a redirect engine to capture information about traffic before sending it on its way. Because of this, ClickMagick has a number of features that tend to hover on the gray and black hat end of the spectrum. Elements like link cloaking to hide affiliate links, link rotators to send a single ad's traffic to numerous destinations, and so on are all potentially dangerous to use. They can be used well and effectively, but some ad networks don't like it.
In any case, ClickMagick may or may not suit your needs. Thankfully, it's far from the only link monitoring, visitor tracking, analytics suite available. Here are five others you can give a shot, and no; I'm not putting Google Analytics right up top like so many other posts do.
Voluum is a lot like ClickMagick, in that it's a cloud-based solution for tracking activity that passes through your links. They have a series of templates for different styles of links, so you don't have to fiddle with parameters and build links manually. Since tracking ROI is a big part of what these apps do, this one supports several different cost models, including CPC and CPA. You can manually update link costs if the traffic source doesn't support it as well. Above all, the whole thing is very fast; the redirects generally take less than 5 milliseconds, fast enough that even mobile users generally don't even notice a redirect at all.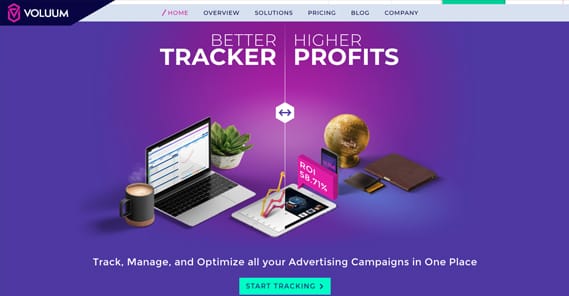 Voluum has a great API you can access to pull your data and process it locally, but they also do a bunch of analytics on their end. They track and monitor data points that range from the OS, mobile carrier, and city-level geolocation of your visitors all the way to their performance. If the default data points aren't enough, you can set up to ten custom data points to track metrics you specifically need. Their reports are well put together and display your data in an easy to read format.
Where ClickMagick allows some pretty deep usage of cloaking and link rotators, Voluum is more limited. You can implement some split testing, but it's much more limited than the full-on rotation scripts ClickMagick uses. On the other hand, Voluum has a free API for controlling it via third party scripts and extensions. If there's something you want it to do that it doesn't, you can write a script to do it. They even have a "machine learning algorithm" to help you optimize your ads automatically, though I'm skeptical of anyone making such claims these days. Machine learning is still in its infancy, so to rely on it too much is tricky.
As far as pricing is concerned, the cheapest available plan is $99 per month. This gets you a million events, where an event is a visit, a click, or a conversion. You only get three tracking domains and a longer support SLA, and you only get six months of data retention.
Higher level plans go for $400, $1,000, and a custom scaled price per month. These, respectively, give you 10 million events, 30 million events, and as many events as you need. Data retention is a year for the $400 plan, two years for the thousand dollar plan, and potentially longer for custom plans. Worth it? That's up to you.
One of the top ClickMagick competitors, ClickMeter is the same kind of click-based link tracking. With it, you can dynamically target where incoming visitors end up, if you wanted to split up traffic amongst various targeted landing pages. You can track your clicks, your views, and your conversions all with the same ap. You can monitor your clicks for broken links, click fraud, high latency, and even blacklists. And, of course, you can export data or reports for sending to clients, team members, and bosses.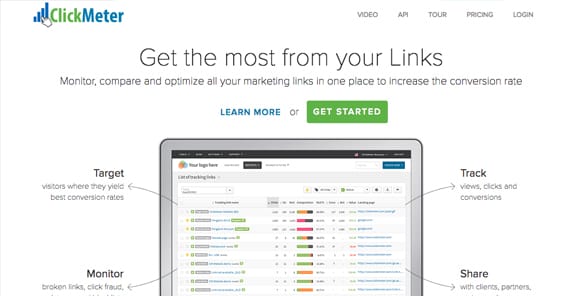 ClickMeter has their own API with quite a bit of good documentation. You can read all of the relevant documentation in their support center if you want.
ClickMeter interestingly lists "more than 100 incredible features" even though a lot of them are basically the same. They list targeting by country, by language, by device type, and by user type as four different features, when they're just all targeting. Other features include:
Redirects based on randomness, sequential lists, weights, and rotations.
Link cloaking with URL encryption and customizable page titles.
Tracking for timestamp, IP address, geographic location, language, browser and platform, whether or not the visitor is unique, and more.
Conversion tracking for your entire funnel, with tracking for product IDs, conversion values, SSL, and other options.
Integrations with AdWords, various affiliate networks, UTM tracking code, Chrome and Firefox, and apps like Shopify, WordPress, Rebrandly, and Megaphone.
The app as a whole has 99.99% uptime with multiple data centers positioned globally to get fast redirects from global traffic. They're also hosted on Amazon's web services platform, to ensure those statistics.
Plans are much cheaper and more reasonable than Voluum, but also lower with their limits. The Medium plan starts at $29 per month and gets you 25,000 events, 2,500 datapoints, a year of data storage, and the basic features like affiliate marketing tools, split testing, the rotator, exports, one branded domain, and remarketing. For $99 per month you get 200K/20K events and datapoints, two years of data retention, 10 branded domains, sub-accounts, fraud protection, and branded reports. $349 per month gets you 2M/200K events/datapoints, unlimited domains, three years of retention, and dedicated support.
3. Trck.me
A member of the recent trend of leaving vowels out of your URL, Trck.me will hook you in with a 30-day free trial with no credit card necessary to start. As far as features are concerned, you have the usual suspects. You have an easy to use and easy to read dashboard. You have auto-tagging for your links; no need to specify a referrer for your traffic, the app appends the information automatically. You can track social media links and metrics.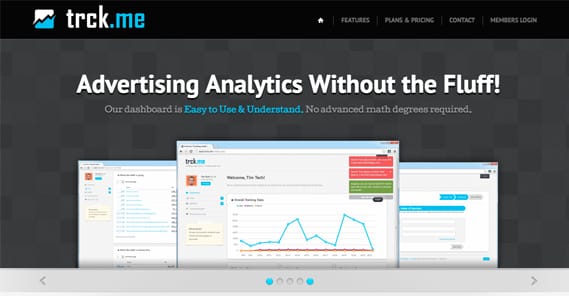 Trck.me also has traffic alerts that can tell you when traffic you're paying for has started delivery, or when delivery cuts off. You have advanced filters to help you analyze your traffic, and of course they praise their fast redirects. They're also very active in terms of support; they have live streams every weekday you can use to interact with and get help from the dev team directly.
This one starts out even cheaper than ClickMeter, if you can believe it. Their basic plan is only $9 per month and gives you unlimited tracks, unlimited tracked hits, and control panel access of course. That's it, though; it's very basic. They have a business plan for $49 per month that gives you custom tracking domains, affiliate tracking, and reports.
Both plans have the option to pay annually if you prefer; the $9 plan costs $90 for a year, saving you about $18. The $49 plan is $490, saving you about $100 or so. It can be worthwhile if, after their free trial, you decide you like them enough to keep using them.
Overall, I would say this one is a good option if you want something cheap or you want to try one out for free before you invest. It's certainly a lot cheaper than Voluum, among others. The fact that they have no tracking limits is also quite interesting. If those features don't appeal to you, you can look elsewhere.
Another link tracking app, another list of features. What does this one offer you? Their foremost offering is link cloaking, in case that tells you anything. Their cloaking renders the destination page inside a full-size iframe to hide the true URL of the page, which is a step further than most go. You can choose to hide the iframe's existence, though with some ad networks and search engines, you want it to be visible so you aren't penalized for spam techniques.
They track your ads, of course, both with PPC and other advertising systems. You can centralize tracking from a variety of different sources at once, including AdWords and Facebook ads. Conversion tracking is par for the course of course, and all you have to do is install a tracking pixel on your site. You can even track modern Postback tracking used by some cutting-edge affiliate networks rather than URL parameters or cookies.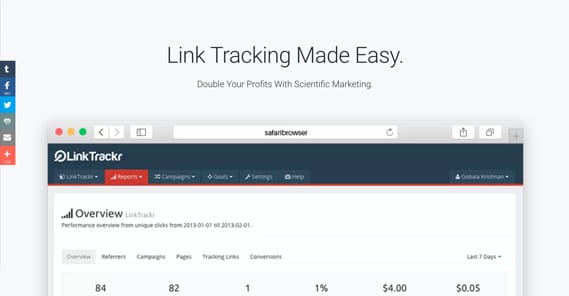 As you might expect, they also have the usual setup with URL rotating and split testing. You can divide up traffic between URLs for split testing the same page, or send traffic to a variety of different pages, offers, or URLs depending on user characteristics.
Unlike Trck.me, LinkTrackr has a 30-day guaranteed. If you don't like it, you can downgrade or cancel for your money back. They're cheap, at least, starting at the same $9 as the above option. For that price you get a meager 100 tracking links and a cap of 10,000 clicks per month. You get link cloaking and branded domains, but that's it.
For more features, the $19 plan gets you 500 links, 50,000 clicks, and the same features as the previous plan. You also get conversion tracking, which is essential for most of you reading this. Above that is the $39 per month plan, which has 1,000 links and 100K clicks per month, and adds in split testing as a feature. The top-tier plan is $69 per month and bumps you up to 5,000 links and half a million clicks.
One interesting thing to note is that LinkTrackr – and ClickMagick, for that matter – does not allow traffic from autosurf sites, wholesale traffic sites, banner exchanges, bulk traffic sites like AdFly, and other bulk traffic sources. Trying to analyze traffic from these sites is generally a poor return; the traffic is usually trash, and it costs them significant server resources to monitor. If you rely on those traffic sources, first of all, get some better sources. Secondly, you'll have to use a different tracker.
You can think of Improvely as the "white hat" version of all of the above. They're designed to work with the major networks without issues, like AdWords, Facebook, Taboola, Twitter, and AdRoll. They come with built-in fraud monitoring so you can identify and block suspicious sources of bad traffic.
One of the most interesting features of Improvely is the customer profile building. The app can recognize individual people and show you useful metrics about them, including how often they have visited, what their value to your brand has been over their lifetime, what their organic value is, and even their general location.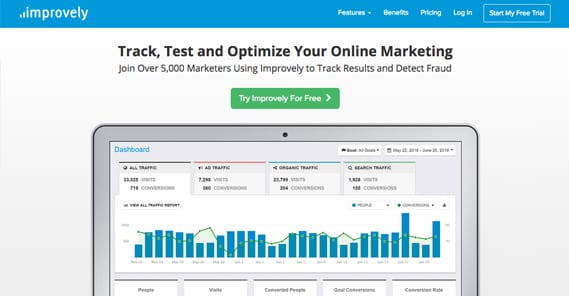 They have a 14-day free trial and their starting price is $29 per month. For that, you can track 10,000 visitors per month, with conversions and revenue, fraud monitoring, split testing, and some nebulous affiliate marketing tools. You can add team members and bump the tracked visits up to 50,000 for $79 per month. Double the visits and add in sub-accounts and you'll end up paying $149 per month. And, of course, they have a top-tier plan with potentially unlimited tracked visits, unlimited team members, and white label reporting, all starting at $300 per month and scaling based on need.
With the various options available to you, you should never go without proper link tracking. Just make sure you're not implementing it in a way that will get you penalized by the search engines or removed from your ad networks, and you should be golden.
The post 5 Alternatives to ClickMagick for Visitor Tracking and Analytics appeared first on Growtraffic Blog.