Are you comparing the best online course platforms?
Whether you're a content creator looking for an online course platform to sell courses, or a student looking to learn from online courses, you're in the right place.
In this comprehensive guide, we will compare the best online course platforms with their pros and cons.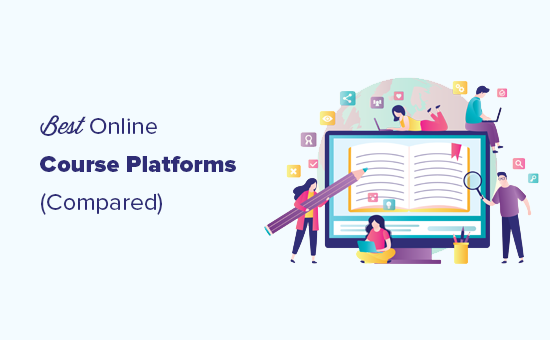 What to Look for in an Online Course Builder Platform?
Following are a few things that you should look for in an online course builder platform. These things may affect your ability to build better courses and grow your business over time.
1. Course building features
Depending on what kind of online course you want to sell, you may have specific features in mind that you'll need. For instance, you may want to give assignments to students, create quizzes, or offer multiple payment methods.
Different learning management systems (LMS) offer different course creation features. Make sure you review them before you sign up, so that you don't have to switch platforms later on.
2. Payment solutions
You may also want to make sure that they offer payment solutions that are affordable for you as the business owner. Some online course builder platforms may charge a percentage of revenue generated from selling each course, and this amount adds up over time.
3. Integrations
Integrations help you connect your online courses to third-party platforms and marketing automation tools. For instance, you may want to connect it with your email marketing service, social media marketing tool, or your CRM software.
Make sure that your online course platform supports third-party integrations and already has many important ones ready to use.
4. Flexibility and freedom
Many online course platforms may have their own terms and conditions that may affect your business. For example, they may not allow you to sell certain types of courses or may have the ability to shutdown your entire business without any notice.
Some platforms compromise on flexibility for ease of use, which means you have less control on your courses, and you cannot add new customization / features on your own course.
5. Ease of use and Support
As a course creator and entrepreneur, you want to choose a course builder that is easy for you to use. It should come with customizable templates, work with your own website, and offer good customer support.
You also want to make sure that it is user-friendly for your students and customers too.
Keeping these criteria in mind, let's take a look at the best online course platforms on the market today,
Best Online Course Platforms to Create and Sell Online Courses
We are breaking our guide into two sections. The first six course platforms are for content creators looking to build and sell online courses.
If you're looking for best online learning platforms for students, then please click the link to jump to that section.
Having that said, here are the best online course platforms for content creators and teachers: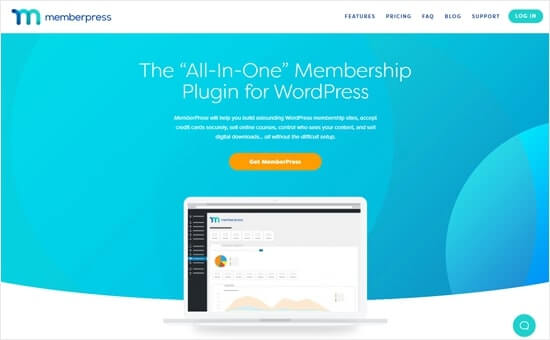 MemberPress is the best WordPress LMS plugin on the market and the easiest way to build online courses.
It runs on top of WordPress, which powers over 39% of all websites on the internet.
MemberPress comes with an online courses addon that allows you to easily create, manage, and sell online courses. Their drag and drop course builder is super easy to use.
You also don't need to worry about design skills. MemberPress includes a virtual classroom functionality that takes care of styling and works with all WordPress themes.
The classroom mode is designed to offer an interactive learning experience on your course website. You can add high-quality video content along with additional downloadable resources.
The best part is that you get access to MemberPress's powerful content access controls. This allows you to sell unlimited courses with different pricing options and subscription plans.
You can also add digital downloads with access control, so only logged-in students can access them.
MemberPress checkout seamlessly integrates with your email marketing service, so you can add each student to your email list, so you can notify them of new course upsell or discounts in the future.
You can add a discussion forum using bbPress to boost engagement, add a referral system or affiliate program using Affiliate Royale to boost sales, and create custom sales pages / webinar pages using SeedProd to grow your online course business.
Pros:
MemberPress is extremely easy for use even for beginners. You don't need any coding skills to use it.
Visual course builder makes it very easy to create courses for educators.
It offers a better learning experience for students with the classroom mode
Ability to drip course content, sell group memberships, and all the powerful membership features.
You have the freedom to set your own course prices, charge upfront vs subscription payments, have multiple pricing options for your online school, and more.
It supports multiple payment gateways such as Stripe and Authorize.net for credit cards and full PayPal support.
It does not take a percentage of your course sales like other platforms.
MemberPress integrates with all popular email marketing services like MailChimp, and they also have a Zapier integration that lets you connect with over 2000+ apps.
Since it's a WordPress plugin, you have the flexibility to customize your website design, add new features, and more without any restrictions.
Cons:
You'll need to manage a WordPress site which means installing updates and managing backups.
If you haven't used WordPress before, then there might be a slight learning curve as you familiarize yourself with it. Most beginners quickly overcome this phase quite easily.
Pricing: Starts from $149 per year for a single site license (no monthly fee).
How to Get Started with MemberPress:
To build and sell courses with MemberPress, you will need to create a WordPress website.
We have created a complete step by step on how to create a membership site in WordPress with MemberPress.
LearnDash is another popular WordPress LMS plugin and online course builder. It allows you to easily sell online courses using WordPress.
LearnDash comes with an intuitive drag and drop course builder that allows you to create any type of course, add interactive video lessons, quizzes, assignments, and more.
You can give all course contents right-way, or use drip content feature to release content as users move along a course. It is super easy to use and gives you lots of tools you would want to see in an LMS platform.
It integrates with all popular payment services, WordPress eCommerce plugins, bbPress, and more. It even works with MemberPress allowing you to let MemberPress manage subscriptions and LearnDash handle the course management.
You can create sales funnels for your courses by using the SeedProd landing page builder, and add gamification by using any of the WordPress gamification plugins.
If you're looking to create SCORM or TinCan content, then you will need the UncannyOwl Toolkit with the all access pass. They allow you to add many powerful features to LearnDash.
Pros:
Full fledged WordPress LMS plugin with quizzes, lessons, assignments, certificates, and more.
Easy to use with a visual course builder that allows you to create interactive online courses.
Integrations allow you to add third-party tools you'll need to promote your online course.
It does not take a percentage of your course sales like other platforms.
Cons:
Content access controls are not as powerful as MemberPress.
Less control on creating multiple subscriptions with different access controls.
Runs on WordPress, so you'll need to manage your own site, which is pretty easy for most beginners.
Pricing: Starting from $159 for a single site license.
How to Get Started with LearnDash:
To build and sell courses with LearnDash, you will need to create a WordPress website.
To get started, you will need your own domain name and web hosting. Domain name is your website's address on the internet such as wpbeginner.com, and web hosting is where your website files are stored.
We recommend using Bluehost. They are offering WPBeginner users a generous 60% discount on hosting, a free domain name and free SSL certificate. Basically, you can get started for $2.75 per month.
→ Click Here to Claim This Exclusive Bluehost Offer ←
After your website is setup, you'll need to install the LearnDash plugin and continue creating your courses.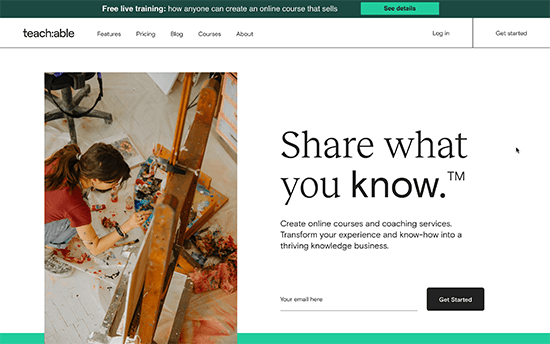 Teachable is a hosted all-in-one platform that allows you to easily create courses and sell them without managing any software or installing updates.
You can use Teachable on your own custom domain name or add it as a subdomain to your existing website.
It is super easy to use and allows you an easy drag and drop platform to make courses, upload content, and publish it. It also includes marketing and analytics to help promote your course.
Teachable also takes care of payments for you and offers your customers multiple ways to pay. You can also use its highly optimized sales to create landing pages for your courses.
Pros:
Incredibly easy to use.
You don't need to manage any software installation, updates, or backups.
You also dont't need to worry about scaling resources as your business grows.
Powerful integrations allow you to use third-party tools for marketing and growth.
Cons:
Teachable is more expensive than MemberPress or LearnDash.
It also charges 5% transaction fee on each transaction if you are on the basic plan.
Pricing Starting from $29 per month for basic plan with 5% transaction fee. You can upgrade to the Pro plan which has no transaction fees but costs $99 per month.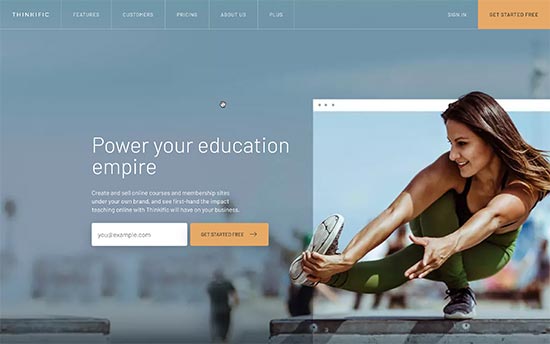 Thinkific is another fully-hosted online course platform similar to Teachable.
It comes with an intuitive drag and drop visual course builder that lets you make highly interactive courses. You can upload any content to your course including videos.
Thinkific supports all features you can expect from an LMS plugin. Plus, you can create different multiple subscription programs, create landing pages, and make a membership community.
Pros:
Thinkific is very easy to use for all users
It is fully hosted which means you don't need to worry about software, backup, and other technical aspects.
You can grow your business without worrying about scaling the platform
Cons:
It is more expansive than WordPress powered LMS platform like MemberPress
The free plan is quite limited in features
Pricing: Limited free plan that allows you to offer up to three courses. Paid plans start at $39 per month.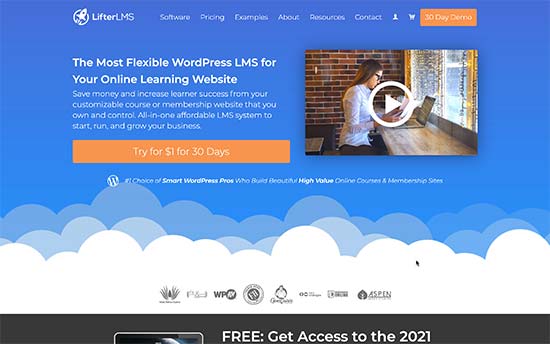 LifterLMS is a popular WordPress LMS plugin that you can use to create and see courses online.
LifterLMS is a powerful platform and comes with tools that help you easily create online courses. It also offers a better learning experience for your users which is important to build a community around your website.
It is flexible enough to set up an small online coaching website or a full-fledged degree program. It supports multi-tier courses, where you can add training modules, lessons, categories, and more.
It has advanced features like drip content, course progression requirements, group memberships, and more.
Pros:
A powerful platform to create highly engaging online learning communities.
Easy to use with simple course builder that helps you add any type of course material.
Integrations for third-party services to help you promote and grow.
Cons:
You need to manage your WordPress website and install updates
Cost may increase if you choose to buy individual addons
Pricing: Starting from $99 per year for a single site. You'll need to purchase addons separately and pricing for addons typically starts at $99 per year.
How to Get Started with LifterLMS:
You'll need to purchase a domain name and web hosting to setup your WordPress site.
You can use Bluehost, SiteGround, or any other recommended WordPress hosting provider.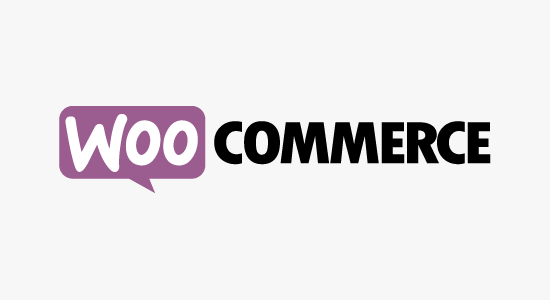 WooCommerce is the most popular eCommerce platform in the world. It is incredibly easy and flexible which makes it a good base to build your online course.
For selling and managing an online courses with WooCommerce, you'll need their Sensei LMS extension.
Sensei LMS is a simple and straightforward LMS addon that allows you to create courses, add modules, lessons, and quizzes.
It is easy to use, and you can quickly setup a course website using the WooCommerce storefront theme.
If you want to create custom sales pages, then you can use SeedProd page builder. For real-time analytics, you can use the MonsterInsights analytics plugin.
Pros:
Simple and straightforward LMS plugin
Runs on top of WooCommerce which allows you to sell other physical or digital products on the same site.
You can use essential WordPress plugins to extend your website and grow your business.
Cons:
Requires paid addons to create paid courses and subscription programs
Lacks some of the advanced LMS plugin features.
You'll have to manage your WooCommerce store and install updates
Pricing: Sensie LMS itself is free, but you'll need WooCommerce Paid Subscriptions addon to create paid courses which costs $129 per year.
Best Online Course Platforms for Students
Whether you're a student or an aspiring professional, acquiring new skills and continue improving on them can open many doors of opportunities in the modern economy.
There are ton of online learning platforms for students that you can join to acquire a new skill or to follow your passion.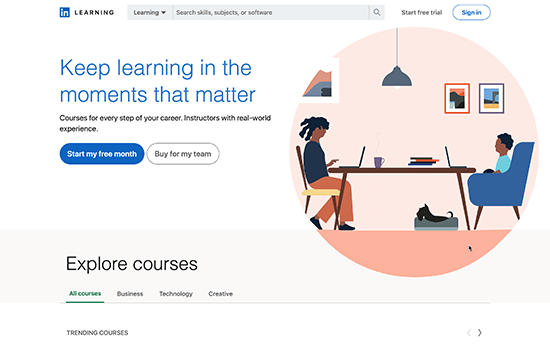 LinkedIn Learning (formerly, Lynda) is a popular platform to learn digital, creative, and other professional skills. They a large variety of subjects and classes for all levels of users (not just beginners).
LinkedIn Learning's courses are taught by professionals with real-world experience and qualifications in their field.
You can learn at your own pace using the their online teaching platform, or their iOS / Android app.
You also get to earn certificates upon completion of a course which you can then display as a badge on your LinkedIn profile.
Pros:
Higher quality courses taught by professionals with relevant background
Badges and certificates that you can show off on your LinkedIn profile
You also get access to LinkedIn Premium with more salary and job insights, unlimited profile viewing, InMail credits, and more.
Cons:
More expansive than other online learning and skill sharing platforms.
LinkedIn does not offer refunds, so you better take advantage of their free trial before making a purchase.
Pricing: Free trial, but pricing starts at $29.99 per month.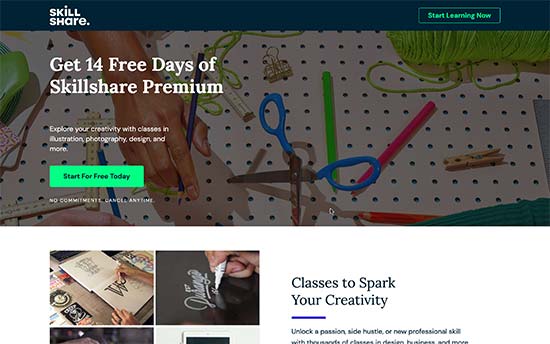 Skillshare is one of the largest online course platform for students offering hundreds of courses on a wide variety of subjects and categories.
It has a limited free trial, after that, you can upgrade to premium which gives you access to thousands of premium online courses that you can join.
Courses are created by professionals and teachers, not by Skillshare itself. Teachers are paid for these courses by views. This acts as an incentive for teachers to offer better quality and highly engaging courses.
Pros:
It is affordable and you can cancel anytime.
Thousands of classes on a very large number of skills and topics
Easy to use with a built-in community element that makes learning fun
Cons:
With too many courses it can be difficult to decide where to begin.
Skillshare courses an be taught by anyone and there is not too many checks on the quality or standardization of the courses.
Pricing: Skillshare Premium starts from $3.29 per month paid annually.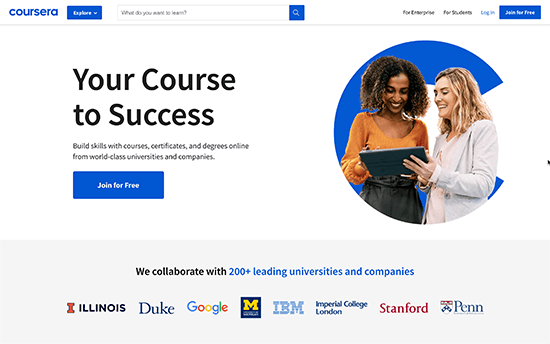 Coursera is another good place to learn new skills.
They offer a variety of free and paid courses and even online degree programs. They have partnered with technology companies like Google and IBM who want to promote the usage of their technologies by offering free courses.
In addition, Coursera also collaborates with colleges offering online degree programs. The courses offered are prepared by professionals with qualifications and skills in the subject matter.
Pros:
Some useful technical courses for beginners are available for free enrollment
Easy to use platform with a relatively better quality control than similar platforms
Access to course materials from top IT companies and colleges
Takes a more academic approach to courses.
Cons:
Upselling of degree programs offered by colleges
Pricing Varies based on the courses or programs you choose to enroll.
Which is the Best Online Course Platform (Expert Pick)
After evaluating all the popular online course platforms, we recommend MemberPress as the best online course platform to build and sell online courses.
If you're a student looking for the best online learning platform to expand your skills, then LinkedIn Learning and Skillshare are the best online learning platforms for students.
We hope this article helped you choose the best online course platforms. If you are selling your own online courses, then you may want to see our guide on how to grow your business online without spending a fortune.
If you liked this article, then please subscribe to our YouTube Channel for WordPress video tutorials. You can also find us on Twitter and Facebook.
Disclaimer: to help avoid choice paralysis, we only compared the top online course platforms. This list doesn't include other elearning platforms or course marketplace like Udemy, Kajabi, Podia, LearnWorlds, WizIQ, iSpring, Academy of Mine, etc.
The post 9 Best Online Course Platforms for 2021 (Compared) appeared first on WPBeginner.
Source: https://www.wpbeginner.com/feed